What is free and operates 24/7? The Galveston Island Ferry!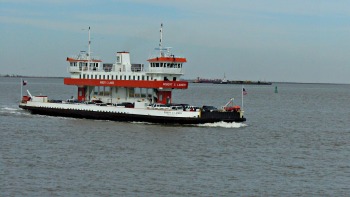 Walk on, drive on, or push your bicycle on.
The Galveston Island Ferry accommodates everyone. 
If you want to leave your car, a good idea, there is a parking lot there. Then walk onto the designated ferry.
You can travel as many times as you like. Just stay on the ferry when it docks. Then ride it back.
The ride is twenty minutes one way. About twenty minutes unloading and loading. Then you're on the way back to Galveston.
A great spot for a surprise picnic.

Ferrying over can be brisk. If you've been in the sun all day you will be cooled!
At each ferry landing are picnic tables. I think two on each side. The ones on Galveston have clean restrooms. They are near the picnic tables.
It is a great spot for a picnic. Beautiful views, breezes and seabirds. 
The Marine environment is exciting.

If you don't live near the water you'll enjoy this. Huge ships glide through the bay.
The ferries are large boats. They can carry nine large vehicles, or twenty small vehicles.
There are five of them operating. And the daily traffic is almost five thousand vehicles!
This is perfect for anyone. If the kids need a break this will do it. Often the seagulls will be only a few feet from you as you travel. 
And of course be on the lookout for sea life. There are dolphins and countless seabirds.

You need a careful eye to spot the dolphins. Put the kids on dolphin patrol! Once they are spotted the excitement spreads. 
A careful eye might spot a dorsal fin that is not a dolphin. I wonder what it could be?

If you have binoculars bring them.

In the ferries wake are hundreds of seagulls. They are looking for anything churned by the big propeller.
Standing on the ferry feels like a foot message. It's those big diesel engines running. They shake the whole vessel.
All the comforts of home upstairs.

The restrooms are on second level. It is enclosed. This level has the better view too.
If it gets too breezy and chilly this is the place to be.
There are two long passageways, one on each side. Large windows line them.
The ferry is a break from heat and humidity. Stand up front and take in the spray and wind. Kids revel in it!
About an hour for a round trip.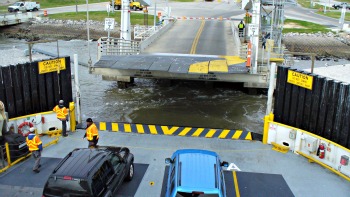 The crossing is two and a half miles one way.It makes  a happy little tour.

It takes about twenty minutes each way. Plus twenty minutes to load and unload. It is an easy hour.
A Galveston Island Ferry can carry 9 large vehicles or 20 small vehicles.
Believe it or not the average daily traffic is almost 5000 vehicles. Wow! I never thought that many.
The State Department of Transportation is allowed to charge tolls. So far they have resisted this. Let's hope they do for a long time!
Galveston Island Ferry
End of Ferry Road
409-795-2230
Leave Galveston Island Ferry and return to Galveston Travel and Charm Homepage.