Why Galveston Facts?  Because so many have asked me is Galveston an island?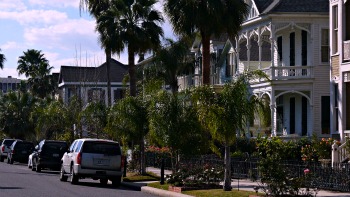 I love to talk about Galveston Facts. Some people aren't sure where it is.
Others are surprised to find out it's an island.
I'll talk to you about it. And in a way that conveys how I feel about this unique place.

This City of Galveston feels familiar and inviting. Like a trusted friend.
Its atmosphere is relaxed. There is no pretense. Here you find the young and old, rich and poor, the hip and retro in coexistence
It is a lovely Victorian city. The architecture radiates warmth and charm.
At night Galveston becomes magical. Softly lite Victorian homes behind swaying palms create a magical place. The homes seem demure about their elegance.

It's a sub tropical climate
The Island has a temperate year round climate.
The winter highs are in the 6o's and lows in the mid 4o's.
That makes it a very popular destination. From Snowbirds to Cruise ship passengers. And everyone in between, Galveston is a refreshing getaway. 
And traveling here is easy. These Galveston facts make a lot of happy travelers.

We took this in late January, 2013. All you needed was a windbreaker.
Life happens on a Galveston beach
The Island is about 27 miles long and 2 ½ miles at its widest. That's about 46 square miles.
There are over 25 miles of beaches. They brighten the entire gulf side of the island. There are only a few interruptions in them.
For example small sections of Seawall beaches cannot be used during high tide. But now most of them can.
Since 2009 beach widening added over 200 feet of beach to the water's edge. Those are nice Galveston facts. 
Except for City of Jamaica Beach, the entire Island is Galveston City limits.
The city of Jamaica beach is a small community about 14 miles from the City of Galveston. Its population is about a 1000.
One of the best Galveston facts, It's an Island of celebration

Almost without warning tens of thousands, hundreds of thousands arrive.The Seawall is lined by miles RV's, cars, trucks and motorcycles.The population of 47,000 multiplies overnight. The celebration begins!
The ten mile panoramic walkway is alive with crowds. Aromas from Barbeques fill the air. People gather together.

It's a happy time!
Bicyclists, skate boarders, joggers, sightseers, baby strollers, wheel chairs, and lovers, mysteriously navigate the other.
Cares that followed are swept away by the gulf breeze. Something else is more important.
Pleasure is being alive.
Feeling refreshed? Let's shop 
You're at the right place.
The revitalized downtown has a 36 block district just waiting for you.
Over a hundred unique restaurants, shops, galleries, fine art, antiques, jewelry, boutiques, and clothing and gifts.
Are you still curious?
How do you get around the Island?
There are all types of tours: boat, dolphin, harbor, kayak, paddlewheel, self-guided, guided, grave yard, ghost, island, segway, Treasure Island train, duck, and ghost and carriage tours.
Whew! I think I got them all.
Ops! The Hop an Hope Off Tours.
Its History is as dramatic as storms

It has had a surprising influence on American society.
For example and employer enacted the first eight hour work day. He was the first in the nation to do so.
It was the first to adopt the Commission form of government. This is now found throughout American cities.
Islander's history is one of notorious defiance. Whether against a Nation, State or the wrath of nature, Islanders would be not cowed.
Maybe it was the spirit of its founder,a pirate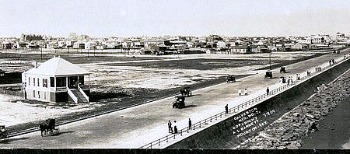 Something, a genetic trace perhaps lingered over the smoldering ruins left by Jean Lafitte. No matter, recalcitrance was the watchword. Defiance was second nature.
Life was capricious at the gulfs edge. One had to meet the challenge. Its citizens ran union blockades and sank union warships. They routinely suffered yellow fever epidemics, hurricanes, then a great fire of 1895.
After being struck by the worst natural disaster in US history, had the temerity to stop the gulf at the edge of their beloved island.
Then elevated their city and homes!
That notorious spirit ended in 1957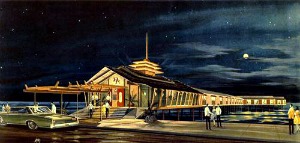 Years of bull-baiting the State with its notorious gambling finally ended.
The Texas Rangers raided the city and famous Balinese Room.
Ax wielding Rangers finished off slot machines. Injunctions against the gambling halls killed the last vestiges of their spirit.
But an Island known as The Comeback Queen is not so easily broken.
The most secret of Galveston facts? Its success is the spirit of the Islanders.
She declined into the early 80's.
It took and Islanders to save her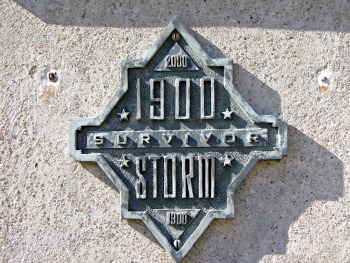 Galveston- born oilman, George Mitchell blazed ahead with revitalization efforts.
He began to energize the heart of Galveston-its city.
His effort to rehabilitate what had become a mockery of her past would pay off.
Overhaul, revitalize and promote were now the watchwords. Adding to Mr. Mitchell's efforts were Galveston Historical Society, business owners and city leaders.   
Galveston was saved by these efforts. Today it is home to one of the largest concentration of Victorian commercial architecture in the United States.

Surrounding this oasis are countless Victorian and queen Ann homes. Each one is as unique as a fingerprint.
I love these Galveston facts!
The Port is a crosswalk away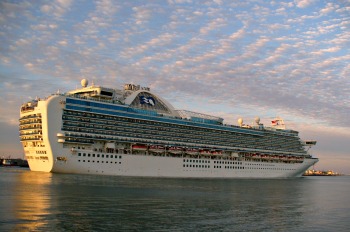 At the Texas Seaport Museum you'll see the graceful Elissa.
She might be an anachronism elsewhere. Here she is at home, she belongs.
The same port serves almost half a million cruise ship passenger a year. With cruise to western and eastern Caribbean, Canary Islands, Gibraltar, and United Kingdom.
Seeing Elissa and a great cruise ship helps summarize Galveston's history to me. She is old, new and everything in between.

As a survivor Galveston is also known as the Oleander City. To me she is always Galveston, Texas, USA.

With five to seven million visitors a year Galveston is the destination for many. This wonderful Island is alive and thriving!

Come see what Galveston Facts you've been missing.
Leave Galveston Facts and return to Galveston Travel and Charm Homepage.