A Galveston Tour is a Head Turner

A Galveston Tour is so much fun. It holds surprises for everyone.
From the active to not so active you'll be delighted.You'll see why tourism is alive and well!
There are twenty four different Tours-and counting. A sedate pace to an exhilarating pace there is something for everyone.
On winter weekends the island is filled with people. After March it's always filled with people!
Last month, February, Mardi gras visitors hit 250,000! More than New Orleans! The population of the whole island is about 49,000.  
Island Tourism is thriving!
If you're new, get comfortable with a Galveston Tour. Get to know your way around. It is easy. And it is impossible to get lost!
Even veterans of the Island discover something new. Now it's your turn! Let's see what teases your imagination.
There is so much to see. It can be hard to decide which tour to take. Well just follow along. When something grabs your attention, go with it!
Self Guided Tour; Walking or Driving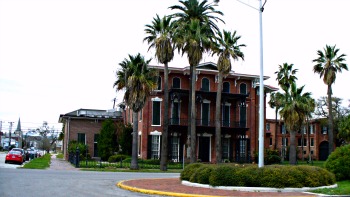 Galveston Tourism starts here.

Ashton Villa is the islands visitors' center.
The brochures, maps and advice you need are here.
Request the following three maps. These are perfect for your Galveston Tour.   
1.       East End Historical District Riding and Walking Tour booklet
2.       Galveston Public Art Driving Tour Booklet
3.       Galveston Island Map
Ashton Villa Visitors Information Center
2328 Broadway Street, 409-762-3933
Walking Tour of the Strand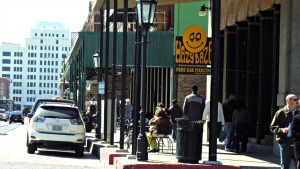 Parking can be a pain especially weekdays.  
Want to explore the Strand and Harborside but don't want to drive? The Hop On Hop Off Tour is ideal. 
Buy the two day pass. For the next 48 hours ride to town and hop off. Perfect for a walking tour.

An hour and a half later the bus is back. Want to stay longer? Not a problem. It'll be back in another hour and a half!
The Strand has a hundred boutiques, art galleries, stores, shops, antique stores and restaurants and bars. 
This ride makes Galveston Tourism light and easy. The way we like it!
A Galveston Bicycle Tour
Recommended maps: Hop on Hop off Tours, Fun map. This is free on any Hop on Hop off tour purchase. 
Or get three maps from Ashton Villa Visitors Center
There is no better way to enjoy Galveston than bicycle. It's my all time favorite!
Start at the seawall. Go in in either direction. Then anywhere between 38st. street and 8th street turn away from the gulf. You can't get lost.
Harbor Ride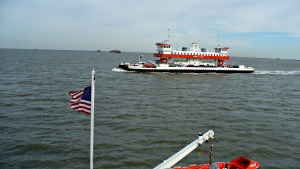 Peddling can get you hot and sweaty. Grab some snacks. Then peddle over to the end of Ferry Road.
Get aboard any ferry. And take a free, brisk ride across the bay. It's filled with wind and ocean spray! There are picnic tables on each side of the bay.
Who said you can't get something for nothing?

Point Bolivar Ferry, 409-795-2230
Guided Walking Tour
Dash Beardsley's Ghost Tours of Galveston. The original Ghost Tour of the Strand. Dash now has two other tours: Restless Spirits Tour; Secret Society Cemetery Tour.
The tours are lively. Well researched and intriguingly narrated. See why this attracts so many so often. Our favorite is the Original Ghost tour of the Strand.
Horse Drawn Carriage Tour
Island Carriage Tours
2100 strand Street, 409-925-3312 or 409-599-5130
Seahorse Carriage Tours
2528 Post Office Street, 409-765-6951 / 800-979-9201
Guided Land Vehicles Tour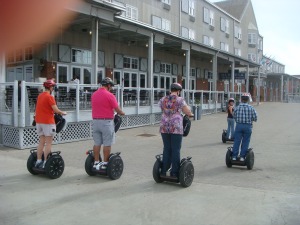 Segway Tours has five standard tours. Plus several others tailored to suit special occasions! 
Segway Tours 41st and Seawall, 409-762-2255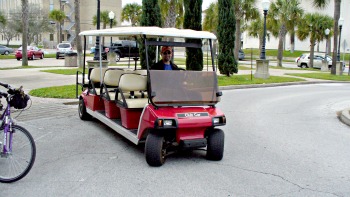 Historic City Tours: guided by a History Graduate.
This is a leisurely tour through the historic distract via electric cart.
This Galveston Tour is popular. Call early to schedule. 

Ashton Villa Visitor Center, 409-789-9911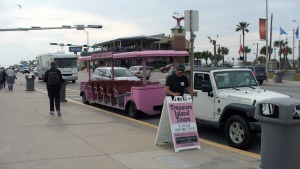 Treasure Island Tour Train; This is the longest operating Galveston Tour. It's an hour and a half long. Covers seventeen miles. It is a fun open air ride.
25th. and Seawall at the Pleasure Pier
409-765-9564 or 409-763-1703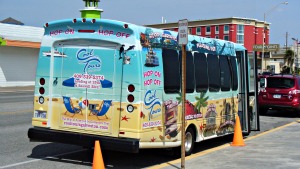 Hop on Hop off Tour Bus Tour is a great deal. This is the perfect tour to get acquainted with the Strand.
Boards at Pleasure Pier.
25th street and Seawall at the Pleasure Pier
409-539-5374
Guided Boat Tours.

Colonel Paddlewheel; a breezy one hour tour of Offatts Bayou
Docked at Moody Gardens, 888-740-7797
Air boat Tours of Galveston Bay: fast, fun and exhilarating way to see the island on the 'Gator Getter'
Pricing and reservation: 409-632-0089
Galveston Baywatch Dolphin Tour: Inexpensive family fun
Pier 21 at Harborside, 832-859-4557
Pier 21 at Harborside Drive, 409-765-1700
Galveston Island Ferry; a fast, free breezy ride across the bay to Bolivar Peninsula and back.
Galveston Ferry landing, 409-795-2230
Kayak Tour; an aesthetic way for young and old to experience the bay and wildlife
Info@artistboat.org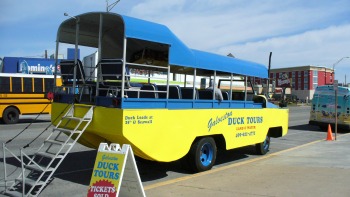 Galveston Duck Tour; this is a lot of fun. It travels on land and water.
25th street and Seawall, 409-621-4771
Air Tours of Galveston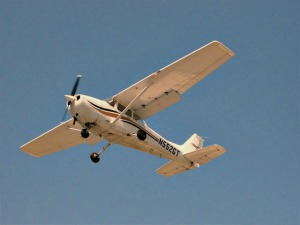 This isn't the actual airplane. But this is what  it looks like. Cessna 172 Air Tour: around 45 to 60 minute ride for up to three people. Weight limit is 200 lbs. per person.
At times you can call then fly as soon as you get to the airport.
Galveston Scholes Airport: Contact Chuck Lince, 409-771-6904
Lone Star Flight Museum Air Plane Ride: not really listed as a tour plane. But this is wonderful ride in a classic aircraft. Call ahead to schedule.
Lone Star Flight Museum 2002 Terminal Drive, 409-740-7722
Leave Galveston Tour and return to Galveston Travel and Charm Homepage.