The Lone Star Flight Museum, Fly in the Legends of WWII!
When I arrived for my Flight Experience, at The Lone Star Flight Museum. I noticed a father with two young girls. They talked animatedly and were pointing at the Stearman coming in on final.
I soon found this airplane carried the wife of this man, and mother of his two girls. This was her surprise birthday gift!
When the young mom emerged from the cockpit and started towards us. I honestly cannot remember seeing anyone with such flush complexion, and beaming expression. It was so much fun to see someone so happy!
Now it was my turn. I felt excited and at ease. When that big radial engine rumbled to life and the propeller became a blur. The aircraft took on a life of its own. And I was now part of its world. Even the smells from the engine, paint, and primer all added to the moment.
I absolutely love the Boeing Stearman. Since my first ride in one. It is the embodiment of The Golden Age of Aviation. And she sounds as exciting as she looks!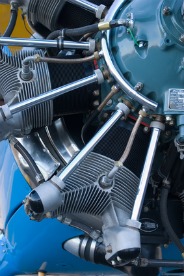 I felt like an excited farm boy once again. All we needed on take off, was my mother hanging clothes. Where our lawn meet the hay field. I was there again.
With the big propeller pulling us through the air, the sound of that engine seemed so reliable and trustworthy. With the wind in the wires and struts, the air streams over you. It fills your senses. Simple and exhilarating.
Flying eastward, along Galveston's seawall and beaches . I was watching the cresting waves slide under the Stearmans wings. I had the strongest urge to start waving at everyone down there - genuine good time!
Whether you take this airplane ride for yourself, or gift it to someone special. It will not be forgotten. This airplane is American heritage; it helped train the pilots who saved the nation! Leave the Lone Star Flight Museum and return to Things To Do in Galveston The Lone Star Flight Museum keeps this amazing heritage, alive and well. And for that, Thank You!
On our next trip I hope to fly in the newest addition. The legendary, P-51 Mustang! Find out more about this enchanting island at Galveston Travel and Charm Homepage
The museum will be having flights on all, Flight Experience Aircraft, throughout the summer and fall. They usually fly on Saturdays and it depends on the date if they are flying or not. Flying dates; April 30, May 7, 14 & 21; June 6 & 18, July 2, 16 & 30, Aug. 6 & 20; Sept 3 & 17, Oct. 22; Nov 12 & 19.
Call and schedule now!
flight@lonestarflight.org
(409) 740-7722