Galveston Restaurants, as great 
  a getaway as the island itself


 There's not much pretense here
Galveston Restaurants are unique as its visitors. And those visitors come from around the world. On this tiny island in the Gulf of Mexico you have more dining choices than many larger cities.
One day the island seems to sedate. Like a quiet hometown. The next day it is alive with tens of thousands of visitors. The one thing everyone has in common, besides loving the island, is the question: where do we eat?  

Are you hungry? What are we in the mood for? Do we care if we have to wait to get a seat? How much do we want to spend? Is there a view?

Look no further than the bottom of this page. There you'll find all Galveston restaurants and maps to get you there fast!

It's a challenge keeping a successful restaurant at a tourist destination. For that reason you can be sure owners work hard to make and keep happy customers.
During tourist season waits for diner can be long. We found mid-day lunch works out great. In the evening try an order to go or delivery. Some restaurants offer delivery.
Most restaurants have an Island paper located near the entrance or just inside. You will find coupons for restaurants and bars, plus the latest island news on entertainment and events. There might be a coupon for where you're eating at. 
                  Dining with a view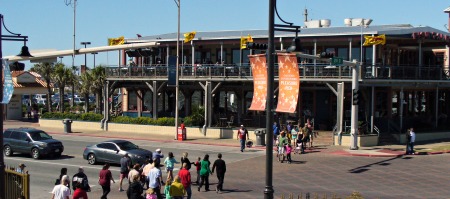 Many Galveston restaurants on the seawall have fantastic views of the Gulf. Even a fast food meal becomes memorable here.
Whether touring, bicycling or walking good food is nearby.
The Seawall is packed with choices; a burger at Wendy's, seafood, Mexican or fine dining. Most of these restaurants are corporate owned food chains. Sprinkled among them are family owned bars and restaurants.
City of Galveston adventures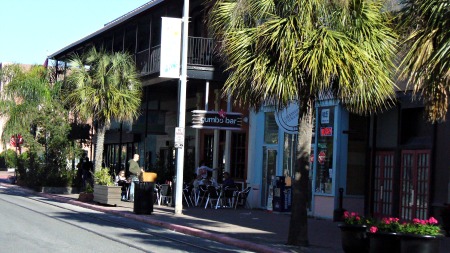 In the City of Galveston are more adventures.
What are you in the mood for? Great bar food, Cajun, Asian, sea food, barbeque, Mediterranean, American, desserts, gourmet coffee and sushi? Whew! Maybe a genuine Italian meal or just a Deli sandwich?
Savor your meal inside, sidewalk cafe style or on a cool veranda just watching the world go by. There is no need to hurry, you're on island time now.
The city has its own winery too. Complete with waterfalls.
Harbor Dining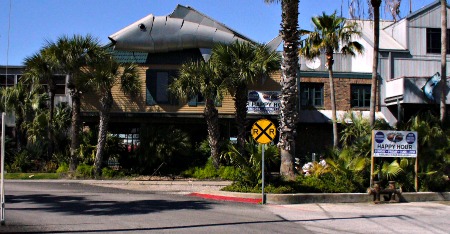 More Galveston restaurants are at the harbor.
The alluring sights, sounds and exciting foods create pleasure moments we love to think about. It doesn't get any better than this.
In the harbor city size cruise ships drift by. You may spot Dolphins frolicking, fish jumping, oceanic birds preening themselves. On the far side are monolithic oil platforms.

Arriving on the island from Pittsburgh in November and dining outside is pure pleasure! This picture was taken from Joe's Crab shack. This is a tiny part of the harbor where the Mosquito Fleet docks.
           Seafood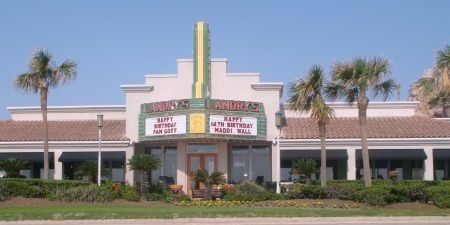 There are twenty eight (28) Galveston restaurants serving the finest seafood on the Gulf coast. Fresh shrimp, shell fish, crab, calamari, and fish- much of it caught in local waters. You can even buy it whole sale.


                 Vacation means breakfast out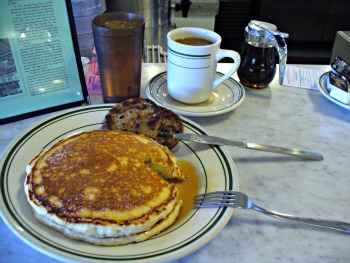 Who on vacation doesn't want breakfast out? There are some fun places for breakfast here. One of the Galveston restaurants has a singing piano player on Sunday mornings. Thinking about it makes me giggle!
Traveling with kids? We know a restaurant that won't break the bank. And you get more than your money's worth.
        What are you in the mood for?
Below are four maps:

1. Seafood, Fine dining and desserts map.
2. Fast Food, American, Asian Food map.
3. Barbecue, Mediterranean Food map.
4. Delicatessens, Italian, Mexican Food map.

 Check small box's to open and close drop down menu. Move mouse over any restaurant and map highlights its location. Click on restaurant to detail and directions. Move map and zoom as needed. Enjoy!

  
  Seafood, Fine dining, Desserts


          Fast Food, American, Asian


    Barbecue and Mediterranean Food


Delicatessens, Italian, Mexican
Leave Galveston Restaurants and return to Galveston Travel and Charm Homepage.