Galveston Hotels and Accommodations
This island with its rich history just has to have great Galveston Hotels. And it does. Whether you need catered to in luxury or want to keep expenses down, you will find it here.

If your romance needs attention, rediscover it here! If you're vacationing with children this is doable!

Need precious extended family time? The island helps rediscover those bonds in some wonderful way!

You will find the perfect setting right here! Delight in accommodations with beautiful views of the Gulf, and sweeping panoramas. These soothe you like only an ocean view can.
Would you like one of the Galveston Hotels on the Seawall? The sparkling Gulf of Mexico and Seawall beaches await.

Casa Del Mar Beachfront Suites


Casa del Mar Beachfront suites have great rates in the fall. Many rooms with views.

Some say Casa del Mar is a little dated. Maybe, but it puts  getaways and family vacations in reach! And besides renovations are underway.

You can keep costs down with full kitchens! And just next door is a large shopping center. With two swimming pools, one heated, your R&R waits.

Across the street is the Seawall. Perfect for bicycling or romantic walks. The panorama goes for miles.
6102 Seawall Blvd.

Telephone: (409)740-2431

Quality Inn & Suites Beachfront Galveston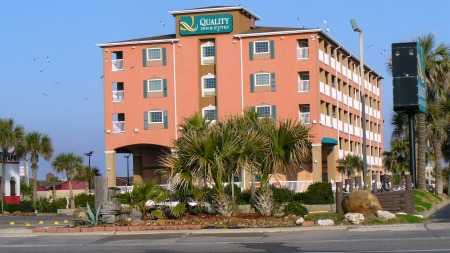 Quality Inns & Suites is located on Seawall Boulevard, Galveston Island. The view is free. Take in all you can. Ah! The Gulf is sparkling just for your amusement!

5924 Seawall Blvd.

Telephone: (409)740-1088
Holiday Inn Sunspree Resort


It is a Texas size resort. Discover relaxation Southern style. The Pleasure Pier and several bicycle rentals, are nearby.

1702 Seawall Blvd.

(888)-465-4329
Holiday Inn Express


The Holiday Inn Express is on the west end of the Seawall. It's usually crowded, a good sign! 

There is much less traffic than the East End locations.  It's  close to Moody Gardens and Shlitterbahn Water Park. Nearby is a Movie Theater, Bungee Jump, and miniature Golf. Two miles to the west the Beach Pocket Parks begin.
8628 Seawall Blvd.
 
(409)-740-7900


Hotel Galvez & Spa, A Wyndham Grand Hotel


Do you love nostalgia? Then you will love one of the great Galveston Hotels!

The elegant charm of Hotel Galvez will tease your imagination.

It is also known as Wyndham Grand Hotel. But from the day it opened in 1911, it was named 'Queen of the Gulf'. When you drive up to it you will understand.

After it was built a hurricane larger than the Hurricane of 1900 struck the island...Inside Hotel Galvez, patrons dinned and danced the evening away.

The seawall held back the worst the Gulf could throw at it.
 
The Queen of the Gulf stands.

2024 Seawall Blvd.

(409)765-7721 
LaQuinta Inn


No one likes surprises on vacation, except the delightfully unexpected.

At La Quinta Inn Galveston there are no unexpected surprises. You will find simple enjoyment of a quality Hotel.

Oh yes there is the view. 

1402 Seawall Blvd.

(888)939-8680
The San Luis Resort, Spa & Conference Center


 Spa & Conference Center is beautiful. It is home to a 30 acre year round beachfront resort on  Galveston Island.
The San Luis Resort, Spa & Conference Center has won, North Americas premier hotel rating. Since 2001 it has been the recipient of the AAA Four Diamond Award®

You deserve such a treat! One of the most impressive of Galveston Hotels and Resorts.

5222 Seawall Blvd.

(888)939-8680
Four Points by Sheraton
More of the predictability you want on vacation. It's a great location. Restaurants, the Pleasure Pier and several bicycle rentals are nearby. And you are minutes from City of Galveston.
2300 Seawall Blvd.

Galveston, Texas 77550

(409)974-4796
Leave Galveston Hotels and Accommodations and return to Galveston Travel and Charm Homepage.