This was our visit to Moody Gardens, the first of many!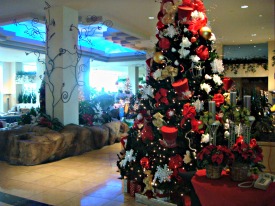 Moody Gardens is the largest resort on the Island.
A while back we stayed here over the holidays. It was our first stay and it was wonderfully decorated for Christmas.



Everything is tastefully done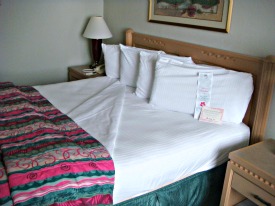 The rooms were very nice. They are a little dated but tastefully done and comfortable. 
There is a Spa and adults only bar. With that is a billiards room too. This is perfect for a getaway form the kids.
Moody Gardens is a great place for kids
Sorry the pictures don't do Palm Beach justice. It was late December.
The grounds are great and are definitely a kid's paradise. You could turn them loose. And let them do what kid's do best. Have a blast!


Palm Beach is a great hang out with white sand beach.  It has a Blue lagoon and waterfalls. Kids oriented Water Park for all ages. And has a wonderful view of Offatts Bayou. It is a great summer place with Fireworks every Friday night.
Late December and swimming was in!
It' hard to see but people were swimming!
We loved our stay here and will be back. We highly recommend it, especially if you have kids.
If it's yourself and a date, I would opt for the Galvez, San Luis, and Hilton. They are all kid friendly but much more adult oriented.  The settings are more romantic and probably quieter as well.
There is a lot to do at Moody Gardens. In winter ice skating is available. You can explore the Pyramids anytime. Take a cruise on the Paddlewheel or golfing.
In the summer months add the Palm Beach.
This is a great winter destination
There are themed pyramids; The Aquarium, Rain Forest, and Discovery pyramid.
Colonel Paddlewheel, an authentic 1880 paddle wheel boat tours Offatts Bayou daily.
The Offatts Bayou tour is an hour long. It also has dinner cruises too. These are about two hour and are usually scheduled once a month.
The Pyramid structures are a lot of good fun. The Aquarium is  one of the best we've seen. We enjoy it on almost every visit here.
The Rainforest is climate controlled as a rainforest.  It has many plants, animals, butterflies and creepy crawly things too.
Discovery Pyramid has interactive science exhibits.

Not only is this place great for kids, it's a great educational experience for them too.
This location has convenience!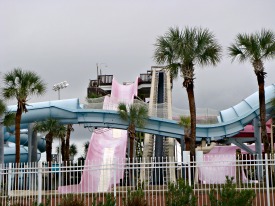 Sorry about the winter photo again!

The location of Moody Gardens couldn't be better.
Next door is Schlitterbahn Water Park. It is the premier water park on the island.
In the winter months the park is about 1/3 or 1/2 open. A section of the park is enclosed and heated. 
The unopened side in winter has most of the bigger slides and outdoor adventure rides. In summer of course it's all open. 
Also next door is LSFM
It has gorgeous examples of WWII aircraft: Fighters, bombers, transport aircraft and trainers. 
As a longtime airline employee I find these airplanes gorgeous!
We're not sure if it's true, but talk is LSFM is moving to Ellington. That is just north of Galveston. The reason is the occasional hurricanes like Ike.
Hopefully another solution can be found.
A great thing about Galveston, you can be anywhere in minutes.  Whether dining out, shopping or sightseeing you're there fast! No long drives or waits in traffic.
Find out more about this unique place at: lsfm.org

Leave Moody Gardens and return to Galveston Travel and Charm Homepage.