Moody Gardens Aquarium             Beautiful Blue Pyramid

 Moody Gardens Aquarium is one of three pyramids.The other s are, Rain Forest, and Discovery Pyramids.
They are simple and elegant in design.Two are tinted in rich colors, blue and copper. The other is clear.
They seem to conceal something mysterious inside. The most striking to me is the blue pyramid. It is the aquarium.
The Seals are your First Encounter.

One seal was really big. It was at least seven feet long. Big! I think there were three seals. The other two were more average in size- about four to five feet long.
I apologize because not one picture of them came out; they moved so fast. They were like shadows sliding over everything.
Don't be surprised by the seemingly small size of the tank. It is way bigger than it looks.  As you descend you'll get the big picture.
These two Fish Kept looking At Us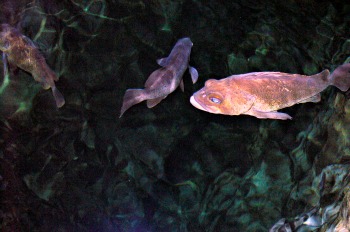 It was weird they just looked at you.
They really didn't look like they wanted food either. 
I wonder if they had teeth….
The Sea Anemones Were Hypnotic

Descending the ramp are exhibits of sea anemones, star fish octopus and other animals.
If it was evening I could watch the anemones for hours. They looked almost hypnotic.
 These Bat Star Fish Were Creepy.

Down from the anemones were Bat Star fishes. There not colorful like you'd expect a star fish to be.
They were a dark color. Their shape seemed web like. Some were hanging upside down. 
We Loved The Pacific Aquarium

The design has a large rock wall along the left side. The view is from the bottom and up.
Along the wall is streaming kelp. There was fish hiding in it. They were almost invisible.
We stayed about 15 minutes.  Every few minutes a new fish swam in to view. Some had startling color designs. 
There was an elusive ray. The best shot was of its tail disappearing into the darkness!
At the bottom of the rock wall was one big Moray eel. It was hard to see because he blended in so well. It had to be half a foot in thickness!
When you get there be patient. You're going to be surprised what you see!
They Were So Elegant And Graceful.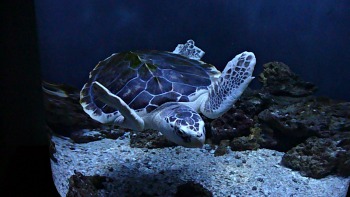 A short walk from the Pacific tank is the turtle exhibit. I never really gave turtles much thought until now.
They are so graceful. I never thought of a turtle as elegant!  
It is hard to describe why. Just look at their picture. What you think?
Although they were an exciting surprise, there was a down side. Their tanks seemed too small for them.  One looked stir crazy swimming around in a circle. Hopefully it's some temporary measure by Moody Gardens Aquarium.
      Of Course There Are Sharks!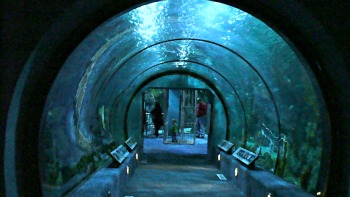 I think they're Nurse Sharks. The animals swim all around you. 

As you exit the tunnel and pass the shark cage and turn left. There's a tiered theater type setting. It's dark and cozy.
From there you can see a large portion of the shark exhibit. Here you can relax and watch the show.
While there one shark continued chasing another. It had something on its mind. It turned into a mating session.
One of the kids innocently commented on this. Suddenly the mom said it was time to go eat!








It was Early February When We Came.

The temperature was about 65 and breezy. It was a beautiful day at Moody Gardens.
There might have been a fifty people at the Moody Gardens Aquarium.We had the attractions all to ourselves!

We couldn't ask for a more carefree day! So, we hoped aboard Colonel Paddlewheel for a tour of Offatts Bayou.

Leave Moody Gardens Aquarium and Return To Galveston Travel and Charm Homepage.