The Colonel Paddlewheel is big!

Breezy and sunny, dark and creepy.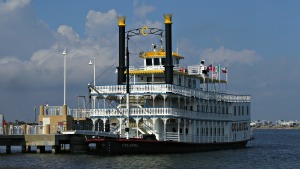 That entire mood in one hour!
Leaving the dock, Colonel Paddlewheel cruised towards city of Galveston. 
We traveled the southern shore past beautiful homes. Galveston Island has no shortage of these! 
Birds that looked rare and exotic were on shore. Some were pecking the shallow waters with their bills. Others roosted in the trees.
At times they seemed to be everywhere.
Scenery just rolled on by.

One minute clear as a bell. Next it was the Colonel Paddlewheel mystery tour.
The marine layer slide in from the gulf. It seemed to happen without warning. 
Once it crept over Offatts it enveloped everything.
It was a simple ride made intriguing. Can Moody's do that?
It was mid-50 on Offatts. Late January and no one was complaining.
We couldn't help wonder what family up north were doing. It was 14 degrees in Pittsburgh. Yikes!
Some travelers were from Oklahoma, Kansas, and Indiana. Others from Wisconsin and Wyoming!
That's some cross section!
Everyone seemed relieved to have this beautiful space. Colonel Paddlewheel did its job well.

The Bayou tour lasted an hour. Dixie land band, pop and country played on the speakers.  
Everyone had the boat to themselves!

There is a bar in the dining room. It has the basics: snacks, soda, cold beer and maybe hot dogs.
Beer was 5 bucks. The barmaid of course was very entertaining.
Dining rooms in the Colonel are big. One is called The Galveston Room. It's mid deck. That was open to us during the one hour tour.
Dining rooms with plenty of space.

On the lower deck is The Texas Room. It was closed. Both look the same size and decor.
During special cruises, like Valentine's Day, I think one is used as a dance floor. That is big!
This day about 50 people were on board. The Colonel can carry 800.
The Pyramids were shrouded in fog.

After 30 minutes the big Paddlewheel turned into a small bay. Made a loop then swung its bow outward. Heading back to Moody's along the North shore of Offatts.
This side Offatts every bit as beautiful as the other.  Galveston's impressive homes and exotic birds lined the shore.
Approaching the docks pyramids loomed out of the marine layer. We were a little like adventures on the edge of a discovery. It wound up our tour on a great note.
Pick your attraction you want.

For example just tour Offatts Bayou on the Paddlewheel. Or visit the aquarium, Rain Forest or Discovery Pyramid. Or combine any of them you like.
It's a nice convenience at Moody Gardens.  
It's perfect when you only want a little excursion. And do not want to commit a whole day. Then come back for new attractions.
Boarding the Paddlewheel everyone is photographed. This is for Homeland Security, Safety and a photo you can purchase. So don't be surprised.
Leave Colonel Paddlewheel and return to Galveston Travel and Charm Homepage.