New Galveston Parking Meters  the perfect choice after Ike.


Why the new Galveston Parking Meters?

On September 13, 2008, Ike made landfall on the island. The storm surge flooded the Historic Downtown to appalling levels.
The inundation caused extensive damage throughout the city. And the parking meters took a hit too.
There are five water marks from hurricanes on the pillar. Look closely, well above my 26 inch bike, there is a bronze plaque with a thin blue line. That's the high water mark of Hurricane Ike.
            Introducing the New
         Galveston Parking Meter

City worker removed over 700 storm damaged meters. These were replaced with new Solar Powered parking meters. 
New meters are located on, 19th St, 20th St, 21st St, Post Office St, Strand St, and Harborside.
These new meters make it convenient to pay on the go.
  Numbers where there were meters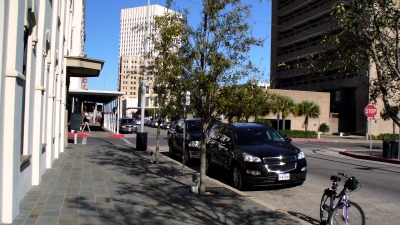 When parking on the street you won't see familiar parking meters every two parking slots.
On the curb you will see a placard with a number on it. Sorry about using two pictures but I didn't realize my shot got cut off.  
That number is your parking slot. Take that number to parking meter kiosk to pay for the park.
Parking kiosks are located nearby between the curb and sidewalk. They're only a few parking spaces away. Contact information and directions are highly visible and easily to follow. 
No more worrying about parking ticket

The new Galveston parking meters automatically notify parking enforcement that a space has run out of time.
The good news is if you are under time and want to stay longer just top off by phone.  The hourly rate for street parking cost $1.25 an hour. (May 2013)
The New Galveston Parking Meters take several forms of payment.
Credit / Debit

Dollars

Changes

Pay by Phone

Mobile Web
With the Pay By Phone App-You can:
Pay for parking anywhere via your smart device: iPhone, Android, Blackberry. This makes it possible to top off remotely. No more running back to the car to feed the meter-Ya!

Have your receipt sent to you online

Receive Text Message reminders
You need an account to do this. It's free and only take a minute. http://paybyphone.com/mobile-apps/ 
Store front parking and parking lots


This is Strand St.
You'll notice the curb is quite high. These make sense to you if you were ever here during a storm. 
Park just far enough away from it so the passenger can get out or the door will strike the curb.
This is Post Office St.
Strand St, and Post Office St, have store front parking. But Post Office Street parking is on one side only. 
Getting one of these coveted spaces can be hit or miss. The good news is getting around the Historic Downtown is easy walking and a lot of fun. For that reason you might opt for one of the nearby parking lots.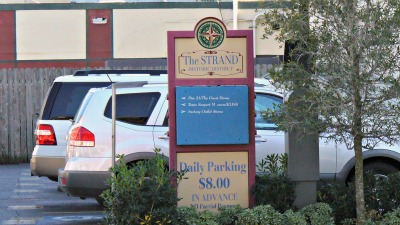 Parking Lots are located on the corner of, 20th and Post office Street, 21st and Post Office Street, 21st and Ave D. They typically cost about $8.00 a day.
 If it's really busy you might consider

Cruise parking. If you're having to consider that though, I'd call: Hop On Hop Off tour bus. They have fun, friendly service that keeps things simple.
Metered Parking begins at 8:00 AM and ends at 6:00 PM Monday through Saturday. Sunday parking is free.
Parking enforcement employees are also known as ambassadors. They are easily spotted by their clothing: Light green shirts, and Khaki shorts.  They provide assistance with use of new meters. And also provide visitor's information about downtown attractions, shopping, restaurants, and entertainment.  However they do enforce parking regulations and issue Parking citations.
Where does the money go? A portion of the gross revenue generated is dedicated to marketing the downtown and boosting tourism. These dollars are put in a separate account that is restricted for only Downtown Marketing.
Overtime meter: $17.00.
Parking too close to fire plug: $17.00
Parking too close to an intersection: $17.00
Parking in a Red Zone: $17.00
Leave Galveston Parking Meters and return to Galveston Travel and Charm Homepage.