Convienience and Sun All Along the Seawall Beaches.
To just sun, or people watch. Seawall Beaches are great. The area between 53 rd. St. and the old Flagship Pier ( 25 Th. St ) watch the surfers, boogie boarders, and kite surfers. Or, join in the fun!
You will witness adolescents up to 60. Trying to impress the ladies. It's fun!
When its busy on the Island parking can be a real pain - anywhere. During holidays, and summer months it can be very busy!
Get to the seawall early and your likely to get a coveted parking spot. If your staying close, just walk. Trust me on this one.
If you are further west it an be a little easier parking. The beaches stretch for miles. Drive from one end to the other, it is all beach.
Since Ike, a great deal of light to white sand has been brought to the island. It beautiful seeing white sand beaches stretching for miles. The endless breakers rolling in. I can hear the sound!


If we're staying near the Seawall, we'll often use bicycles for beach adventures.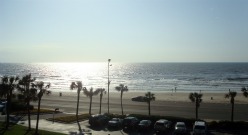 It keeps life simple when it's busy. Then after a half a day on the beach, and a bike ride back. You're ready for refreshments and dinner! Sleep comes very nicely then thank you.
There are a lot of convenient places to stay, eat, or drink, along the seawall. (That would be across Seawall Blvd). There you'll find souvenir shops, bicycle rentals, fast food, and restaurants.
Although some may disagree, good news!
No drinking on Seawall Beaches or the Seawall. Drinking on East Beach and Porretto Beach only. Yea! If you've been to this area in years past you understand. If not, be glad.
There are life guards and porta potties. Some beaches have Boogie boards, chairs, and umbrellas for rent. A few have food vendors.
You will be across from a fast food place, or restaurant anyway. If you plan to stay the day be prepared. You can get thirsty out there....
In the evening, with the moon out. The
Seawall is a place to walk with your best friend. A walk along the historic seawall looking out to the gulf. Something about Galveston makes me aware of, and love each moment here. Leave Seawall Beaches and return to Galveston Travel and Charm Homepage.