Except for Galveston's Jean Lafitte, not many US cities have a Pirate as Founder.
Jean Lafitte. Founder of the city of Galveston?
The island had been known as Galveztown. It was named by Spanish explorers, in honor of Bernardo de Galvez y Madrid.
Bernardo played a large, but, obscure roll in the American Revolution.
On May 14, 1817. Privateer Jean Lafitte arrived on the island. Shortly after he drove pirate, Louis Michel a'Aury from the island.
There was room for one leader.
Lafitte named his settlement: Campeche.


The start of the City of Galveston.
He either purchased the fort from Louis a'Aury or built it. It was a two story building constructed of heavy masonry. After painting it red he named it; Maison Rouge, or Red House.
Maison Rouge had a view of the Gulf. And it had cannons on the upper level. The living quarters for his men nice for the time. As were the guest accommodations.
Around the the fort: cottages, taverns, boarding houses, gambling parlors, and livestock holding pens were built. The beginnings of the City of Galveston.
Near the waters edge ship repair.
With things in order, Lafitte set up smuggling operations. His enterprise provided necessity's to growing inland towns on the coast.
Unfortunately the popularity of Campeche by criminals speeded its downfall.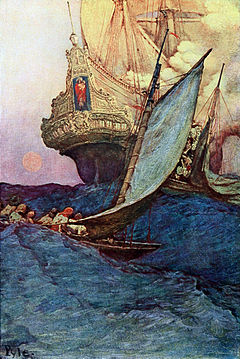 Lyle Saxon was a respected New Orleans writer, and Journalist.
He described Campeche: "More buccaneers arrived, bringing their women with them; an ever increasing number of traders came to the settlement; and there was a constant infusion of men of all nations, gamblers, thieves, murderers and other criminals who joined Lafitte's colony in order to escape punishment for crimes committed within the borders of the United States. Numerous rich prizes were brought in, including several captured slavers loaded with Africans. 'Doubloons,' says one writer, 'were as plentiful as biscuits.'"
President Madison was working for peace with Spain.
Captain Lafitte was profiting by attacking Spanish ships.
This with the criminal occupancy became too much.
Campeche survived a Galveston hurricane in 1818. But not a hostile US government. Leave The USS Enterprise arrived. On board, Lieutenant Larry Kearney had orders from President Madison. Lafitte was to leave Galveztown.
Several months passed. Lafitte did not comply.
The USS Enterprise returned. This time escorted by a fleet of war ships. Lafitte was ordered to get off the island, or be blown up.


After celebrating that night in pirate fashion. Jean Lafitte sailed into history.
"That night Lafitte set fire to Campeche. Men aboard the USS Enterprise saw it burst into flames... When they went to shore at dawn they found only ashes and rubble. The ships of Lafitte were gone..." Account of Robert Tallant.
Many accounts exist concerning his whereabouts. Some say he traveled to Charleston, South Carolina. Others, South America. Another that he died near the Yucatan peninsula at the age of 47.
A more interesting one: He left for Mexico. There faked his death, and returned to Galveston. There he lived under the assumed name Meazall. Return to
Whatever the truth. Jean Lafitte made an indelible mark on history.
Whether fighting against the British in the war of 1812; Pirating in the Gulf; a New Orleans Gentleman; or establishing Galveston's first colony. The man was and still is a larger than life character.
Other men and women of Galveston would make history too. Their success would be a beacon to countless others in the Old World.
Leave Jean Lafitte and return to Galveston Travel and Charm Homepage.