Stewart Beach Just For The Kids! In All Of Us!
There Is A Lot To Like About This Park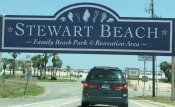 Like all beaches Stewart Beach can get quite crowded.
You are never too far from hotels, motels, and food. Alcohol is not permitted at the park. It just more conservative, family oriented than East Beach.
I mentioned this on the Attractions Page. The water is not sparkling clear like Clearwater Florida. It's like most beaches along the Gulf coast. It can be green, greenish, to sandy. Kids don't care!
It's less than $10.00 to get in. If you drive out for any reason, when you return you'll pay again.....
You can drive right onto Stewart Beach. Once there just set up, use the car, van, or pick up for base. That is great! No more 'hiding' your valuables under the towel! Now who would ever think to look under there?
Bring the beach basics; blanket, sun block, drinks, towels, eye drops etc.

What Else is Nice, Um, it's Pet Friendly!
Some folks bring their barbeque and cook out.
Seaweed can often be left on the high tide line, during the summer months. Boys find critters in it to chase girls with. That is part of their job in life. Some people squawk, the seaweed 'it's smelly'. Oh common. It smells like the Ocean....
You will find sea life at Stewart Beach. Anything from hermit crabs, to sand crabs on the beach. Sting rays, jelly fish, dolphins in the surf, fish jumping.
Life Guards will raise flags if there are any conditions you should be cautious of.
For food there is a limited snack bar, and snow cone vendor. So, better bring some food. There are fresh water showers, and restrooms. But no air conditioning.
The city rakes and cleans the beach before anyone arrives. The majority of the time it's clean and neat. Sometimes, lighten up....We all have our off days. Leave
The umbrellas and chairs you see set out. They are for rent. I think about $25.00 for the day. Cash only.
There are four restaurants nearby. Mario's (good Italian) is about 1/4 mile for the center of the park. Gorditas (good Mexican)Restaurant is about 1/3 of a mile from the middle of the park.
McDonald's (Good Old American)
Just look around and you'll see it.
Subway ( more Good Old American)
It's just across the street from the middle of the park
Mario's Seawall Italian Restaurant / 409-750-8888 628 Seawall Blvd. Galveston, TX
Gorditas Mexico Restaurant / 409-621-1944 712 Seawall Blvd. Galveston, TX
Leave Stewart Beach and return to Galveston travel and Charm Homepage.