Galveston Railroad Museum. Larger than life history is here

Kick back at Galveston Railroad Museum. You going to enjoy a quality hour or two on a self-guided tour-or kids guided tour.
The museum in located in town. And it is an easy walk. 

Inside at the News Stand buy your tickets. Get one for the train ride too. It's only four dollar's or so for the ride. It keeps kids amused and your feet a rest. The ride travels about a mile out. Then back.
The ticket window and Porter

The Union Passenger Depot stirred my imagination. The manikins fuel it! They're frozen in time. You almost hear what they would be thinking.
I love this couple at the ticket window. You feel like your are waiting for them. The porter tagging luggage looks like he'll stand up any second.
A fun diversion are Wall Box Phones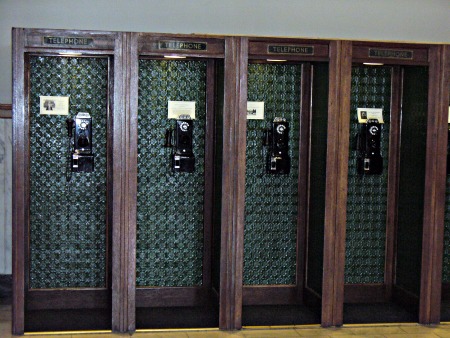 I think that's what they were called. Hear some of Galveston's most famous citizens. Some people miss these. They think it's just a static display.
Just step inside and pick up the ear piece.

Kids may get bored inside. Not enough to keep their interest. Once you're through the 'Door to All Trains' that will change.
They're big and beautiful

Outside Galveston Railroad Museum comes alive. Here are the locomotives and the rail cars. Everyone is captivated by these giants. They're big and beautiful.
There are steam powered locomotives. And diesel powered locomotives. It's so cool getting close to these machines. They just radiate power.
Aw, that kid ringing that bell!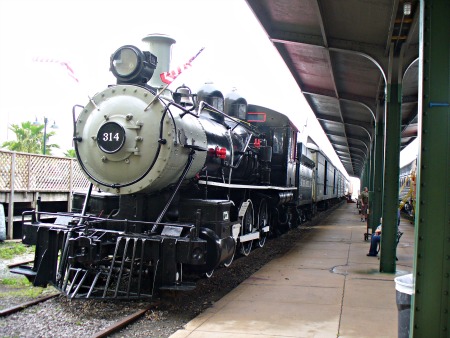 This steam engine you can climb inside and ring the bell. Some kids get carried away with it! But I that's part of their job.......
It's surprising how big these really are

Walking along the static displays it's surprising how big they are.  Some dining cars you can enter. Others like, City of Galveston you can't. But looking through the window invites you into another place and time.
Into another time and place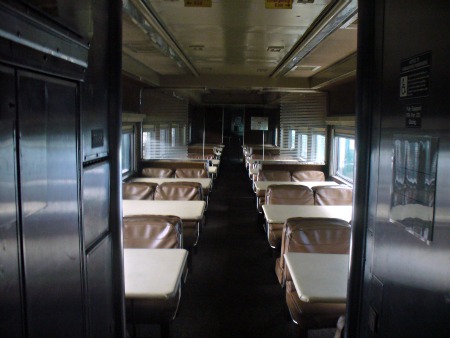 I'd just love to sit inside and have a burger. All while traveling along the coast!
We're anticipating Galveston Railroad Museum calendar of events. Dinners are held inside this beautiful car. Since we are in town for four months we're in!
No it won't be a ride along the coast. But it'll do!

I was fascinated by this crane.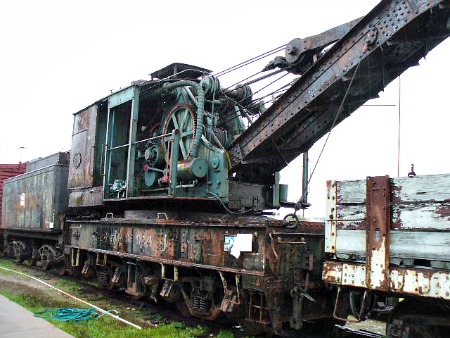 At the end of a line of cars is a crane. I think it was built in 1904 or 1906. This really fascinated me. After a while I realize why. This crane is riveted together.
This was an era wielding was still evolving. Wow!
I think it's Steam Powered! It would be something to see this at work.

Obviously the crane has not been restored. It looks like it just needs painted. When it's done it will look terrific.
It seems so long ago it was built, 1904.
There is a steam powered tractor here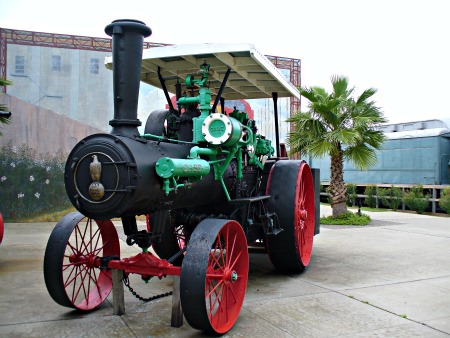 There are a few steam powered machines on sight. This is the steam tractor. It looks like a steam engine on steel tractor wheels. Wow! We have come a long way.
 Inside two other buildings are scale train displays. And model trains. You'll also find beautiful examples of railroad china.
The tour is so casual. The visuals are big and fun. It's a great way to spend an hour or two. Enjoy the Museum in laid back Texas fashion.
At galvestonrrmuseum.com learn more about this great museum.
As you walk through the museum, consider this; there was eight feet of water where you are standing! That was Hurricane Ike.

Hope you enjoyed your visit!

Leave Galveston Railroad Museum and return to Galveston Travel and Charm Homepage.