Americas Kitchen, Quality Food at
  Family Prices

Americas Kitchen on Galveston is an affordable family style restaurant. It's reasonably priced and perfect for breakfast, lunch or even dinner. It's a casual spot for families to unwind at. The Kitchen is well away from the crowds and traffic on Seawall Blvd. And the menu prices reflect that.
The first few days on the island we don't mind paying tourist prices for breakfast. We're feeling good. Luxuriating not having to get up and deal with…. A few days of that, we tend to conserve cash for other things than bacon and eggs or pancakes. We ought to get a decent breakfast-with tip-for ten bucks or less. 
It's trying to pay $14.00 a person for a sit down breakfast. Add two or three children and two adults. Ouch, adds up fast! What's the solution?
    How did we miss this?
Last February I was peddling back from the ferry. Americas Restaurant, we had passed several times, suddenly registered to me.  Wow we passed this place dozens of times. I just noticed it now!  I think it used to be the pancake restaurant.
 The next day I peddled down to try their breakfast. One sign of good food is a crowd of regulars eating daily at the restaurant. Although I was quit early there was a steady stream of professionals from UTMB, students, and construction workers in and out during that time. UTMB is located just across the street from Americas Kitchen.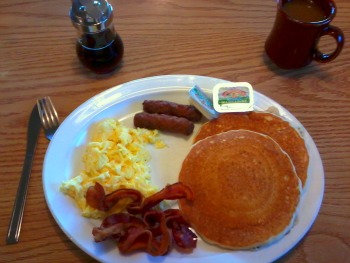 Americas Kitchen breakfast and coffee was good. I had a sampler of sausage, pan cakes and eggs and coffee. The breakfast was as good as anywhere else. But the serving size was surprising. There was no skimping of food to add to the bottom line, an honest price for a good breakfast.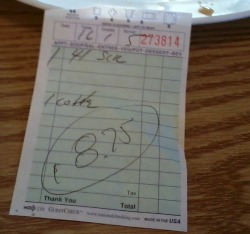 The total bill for all this: $8.75. I cropped the bill from my empty breakfast plate :)
The Kitchen's breakfast menu ranges; $3.99 for French toast: $ 5.99 for 2 eggs, toast and meat. Then $13.99 for T bone steak, eggs with grits or hash brown plus your choice of toast. They also a have a nice breakfast plate selection with Mexican flair - about $6.00.
   Good food at a fair price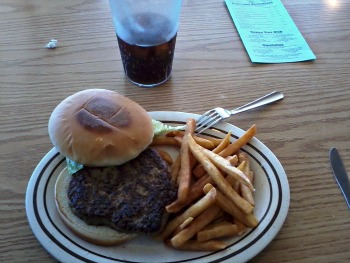 After a few days I stopped in for lunch.  I didn't try any of the Mexican dishes. Instead went with basic American diet of hamburger and fries'. It wasn't a gourmet burger or the best I ever had. But it was good food, friendly service and clean. What made it better was the size and price. Under $8.00 and that was with a drink too.
  America's Kitchen lunch and dinner menu has a good selection Tex Mex Delight; Huge Chimichanga's, soft shell tacos, sizzling chicken fajitas, or delicious Steak and Shrimp Potosi. The prices on this menu range from about, $6.00 to around $12.00.
      Bright clean and tidy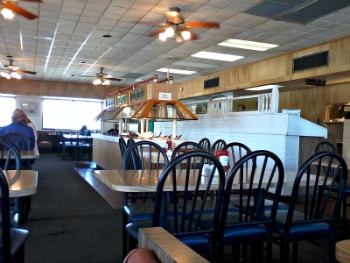 America's Kitchen restaurant seems somewhat small. But at the same time feels spacious and airy too. It's because of the booths located along the wall and the large windows. It's clean and tidy.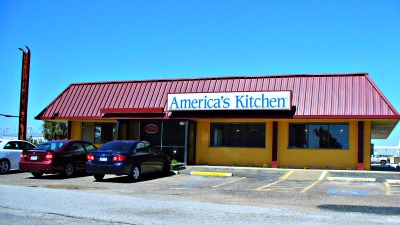 America's Kitchen is at a somewhat offbeat location. But it is close to the action without inflated prices.
Driving west on Harborside Drive, by UTMB, it is on your right hand side. Located on Harborside Drive and 6th St. you cannot miss it. Sorry I don't have the street address. 
It's a close to the yacht club, the Harbor and its attractions. And of course the downtown attractions too.
There are plenty of parking spaces at the Kitchen. And you have a good view of your car from inside.  Although I doubt there is a problem with vandalism here. 
America's Kitchen is now a reliable restaurant for us on Galveston. Basic good food, cleanliness, service and price are all pluses. It's especially good if you want a place for meals on a regular basis.
Leave Americas Kitchen and return to Galveston Travel and Charm Homepage.